Our "U" litter, born 05 July 2014 - black and chocolate
Mūsu "U" metiens, dzimuši 05.07.2014.g.
All of the "U" litter puppies has got their new families!
Visi kuceni savās jaunajās ģimenēs!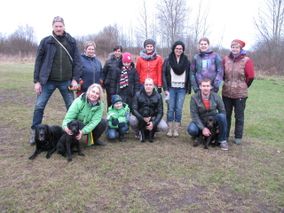 "U" metiena salidojums / litter meeting 08.11.2014.g. Paldies visiem četriem "bērneļiem",  lielajam onkulim Konim un jaukajiem saimniekiem par kopā sanākšanu. No Kreisās uz labo: melnais onkulis Gilbron Pride Kin Of Conan Doile, viņa mazā radiniece Umiak Tinmi (Tinmi), melnais brālis Universal Soldier Sky (Grāfs), šokolādes brālis Ursus Umka Uno (Uno); aizkadrā palika burvīgais Umber Boy Neymar (Neymar).
Liels paldies lieliskajām skolotājām Vladislavai Akimovai un Irinai Popjonokai!
05.07.2014.g. piedzima septiņi kucēni: 4 puikas (2 melni un 2 šokolādes) un 3 meitenes (2 melnas un 1 šokolādes).
Kucēni būs klīniski veseli attiecībā uz tādām iedzimtām slimībām kā miopātija (CNM), slodzes izraisītais kollaps (EIC), progresīvā tīklenes atrofija (PRA), hiperkeratinoze (HNPK).
Sagaidam, ka mazuļu vidū būs arī labradoriņi ar labām darba īpašībām.
Kucēnu ciltsrakstos četrās paaudzēs ir labradori ar darba un sporta spējas apliecinošiem diplomiem un sertifikātiem, īpaši izcili sportisti ir no tēva puses; arī kucēnu māmiņas vecāki un vecvecāki ir ar darba-medību sertifikātiem.
Izcelsmes ziņā ciltsrakti ir pārsvarā ar angļu-skandināvu "asinīm", kas nedaudz papildinātas ar amerikāņu izcelsmes labradoriem. Tie ir labradori no slavenām audzētavām Lilebritānijā "Stormley" , "Ballyhenry", "Sretlaw", "Sandylands",;itāļu audzētava "Dukeland" ir pārstāvēta ar Eiropas Uzvarētāju 2000 - Dukeland Offshore; Skandināviju pārstāv "Lab Treasure's", "O'Sofinas", "Trendmaker's", "Loresho" un citas; ASV - "Bonaventure".

There are 7 puppies: 2 black boys, 2 chocolate boys and 2 black girls, 1 chocolate girl.
The litter has got in the pedigree four generations of labradors - holders of field test certificates and sport diplomas! Puppies will not be affected by CNM, PRA, HNPK, EIC.
In a Pedigree you will find Brittish-Skandinavian bloodlines ("Stormley", "Sretlaw", "Sandylands", "Lab Treasure's" etc.) with addition of USA "Bonaventure" labradors
We hope that some of the puppies will follow in succesfull steps of their great sporty daddy and other ancestors in a field and obbey courses.
"U" kucēni 6 nedēļu vecumā pastaigā / puppies at 6 weeks age walking
GILBRON PRIDE UMIAK TINMI - Black girl / melnā meitene (Latvija)
Arī mūsu mazā melnā spulgacīte - darbīga un ziņkārīga ir sagaidījusi savu vislabāko ģimeni!
Viņas vārds nāk no eskimosu tautu valodu grupas: "umiak" ir eskimosu laiva, "tinmi" - lidot. Šī darbīgā mazule varētu visnotaļ attaisnot savu vārdu.
Tinmi būs neliela auguma, eleganta labradormeitene.
Tinmi is avery nice black girl. She will grow in an elegant labrador girl. Tinmi is a joyful girl.
GILBRON PRIDE UNION JACK SKYWAY, "Red" Black Boy / "Sarkanais" melnais puika (Latvija)
GILBRON PRIDE UNIVERSAL SOLDIER SKY, "Bordo" Black Boy / "Bordo" melnais puika (Latvija)
GILBRON PRIDE URSUS UMKA UNO, "Red" Chocolate Boy / "Sarkanais" šokolādes puika (Latvija)
GILBRON PRIDE UMBER BOY NEYMAR, "Lilac" Chocolate Boy / "Lillā" šokolādes puika (Latvija)
GILBRON PRIDE UELSY BLACK ROSE, "Red" Black Girl / "Sarkanā" melnā meitene (Estonia)
GILBRON PRIDE UMBELL CHOCO DREAM, "Blue" Chocolate Girl / Šokolādes meitene (Estonia)
Par vecākiem / about parents
Kucēnu māte/Dam: GILBRON PRIDE ROMANTIC ROCKET (Lab Treasure's He's A Hunk x Stormley Anaka) LV&EE JCH, LV CH
HD A/A, ED 0/0, šokolādes. Ģenētiskie testi: PRA, CNM, HNPK, EIC - clear (tīra)
Rocket ir Latvijas un Igaunijas junioru čempione, Latvijas čempione. Viņas kucēni no iepriekšējā metiena jau piedalās izstādēs gūstot LV JCAC sertifikātus, kā arī viens no dēliem jau kļuvis par Baltkrievijas Junioru Čempionu.
Kucēnu tēvs/Sire: SILVER SKY REIMA'S (Gilbron Pride Navigator Master Nose x Reicel Tropic Chans) LV&EE JCH, OBEDIENCE CHAMPION OF LATVIA, OBEDIENCE CHAMPION OF ESTONIA, HD A/A, ED 0/0, melns/black
A real sport & working dog competing at international level.
Field test for retrievers - international working certificate
BH, Obedience-3 international level , OBEDIENCE CHAMPION in Latvia and Estonia! Holder of the LV record points 313,5. Sky participated in World Winner 2014, Helsinki Obedience competition and has got 38 place with 254 points among 97 participants!
Sky ir viens no sportiskākajiem Latvijas labradoriem, kurš ir ieguvis godalgotas vietas (ieskaitot pirmās vietas) tik sarežģītā sacensību veidā ka "Starptautiskā paklausība" augstākajā - starptautiskajā līmenī: Obedience-3. Piedalījās PASAULES ČEMPIONĀTĀ 2014, WW'14 Helsinki, OBEDIENCE SACENSĪBĀS, iegūstot 38.vietu ar 254 punktiem 97 dalībnieku vidū!
Nokārtojis ari medību testu, iegūstot starptautisku sertifikātu.
Sky ir cienīgs savas mātes REICEL TROPIC CHANS dēls, kura ir LATVIJĀ PIRMAIS LABRADORS -  LATVIJAS UN IGAUNIJAS ČEMPIONS STARPTAUTISKAJĀ PAKLAUSĪBĀ (LV&EE OTCH). TAGAD ARĪ SKY IR LATVIJAS UN IGAUNIJAS ČEMPIONS STARPTAUTISKAJĀ PAKLAUSĪBĀ (LV&EE OTCH)!
Sky is son of REICEL TROPIC CHANS - HOLDER OF GREAT TITLES: "CHAMPION OF LATVIA AND ESTONIA IN OBEDIENCE"
SILVER SKY REIMA'S IN ACTION
Pedigree of litter / kucēnu ciltsraksti
 

 Silver Sky Reima's

black, HDA/A, ED0/0

LV&EE JCH, Field test for retrievers, BH, OBD-3, OBD LV&EE CH




 

 

Gilbron Pride Navigator Master Nose chocolate, HDB/B, ED0/0, PL0/0, PRA,CNM, Narcolesy-clear, C.I.B., BALT JCH, BALT&RU CH, BALTJW'07, EEW'08, LVW'08'09, BALTW'10, 

Field test for retrievers-III, police working dog






 

Ballyhenry Say No Say Yes (Great Britain), chocolate, HDA/A, ED0/0

C.I.B., LV CH, BALTW'04

 

Stormley Craftsman at Ludzska (Great Britain)

Ballyhenry Make Believe (Great Britain)

Stormley Anaka (Great Britain), chocolate, HDA/A, ED0/0, PL0/0

C.I.B., BALT&BLR JCH, BALT&BLR CH, EEJW'04, LVW'05, LTCLW'06, Forest duck-I, Swamp birds-I, Blood track-I (I-the highets degree diplomas)

Stormley Karlos

(Great Britain) chocolate

Stormley Haley 

(Great Britain)

Reicel Tropic Chans, black, HDA/A, ED0/0
Field test for retrievers, BH, OBD-3, OBD LV&EE CH, IRO RH FL E


 

 




 

Eshli Chans Fantazy Good Luck (RUS) yellow

HDA/A, ED0/0

LV CAC

Sretlaw West Is Best (Great Britain) C.I.B., RU&BLR&UKR CH

Folk Elona (RUS)



Tropical Night Di Fur, black,

HDA/A, ED1/2

Forest Duck, used for hunting

 

Stormley Furgus (Great Britain), black, HDB/B, ED0/0,

BALT&BLR CH, 

Forest duck-I, Swamp birds-I, Blood track-I, Explosives detector -police working dog

Diamante Offben Wolit, yellow, HDA/B, ED0/0


 

 

Gilbron Pride Romantic Rocket

 chocolate

HDA/A, ED0/0, EIC&CNM&PRA&HNPK-clear

LV&EE JCH, LV CH

Lab Treasure's He's A Hunk (Denmark), chocolate, HDA/A, ED0/0

DK&SWE CH, Working trial, Field trial B -1st prize beginner class

Bonaventure Lubberline Viscount (USA) HDA/A

Epochs Edward Of Bonaventure (USA)
Classique's Count On Me (USA)


O'Sofinas Quite as Nice (SWE) black, HDA1

C.I.B., DK&SWE CH, NOW'00, Working trial, Field trial B -1st prize beginner class, 3x 1st prize open class

 

Trendmaker's The Moose Is Loose (SWE)

SWE CH

Loresho Jell-O (FIN), HDA2

C.I.B., FI&EE CH, FIW'95

 

Stormley Anaka (Great Britain), chocolate, HDA/A, ED0/0, PL0/0

C.I.B., BALT&BLR JCH, BALT&BLR CH, EEJW'04, LVW'05, LTCLW'06, Forest duck-I, Swamp birds-I, Blood track-I (I-the highets degree diplomas)

Stormley Karlos

(Great Britain) chocolate

Stormley Mastercraft With Harrop (Great Britain)
Stormley Marty Of Harrop (Great Britain)

Stormley Haley 

(Great Britain)

 

Stromley Craftsman at Ludzska (Great Britain)
Stormley Cassandra (Great Britain)