NĀKOŠIE KUCĒNI MŪSU MĀJĀS VARĒTU BŪT 2018.GADA BEIGĀS
NEXT LITTER COULD BE AT THE END OF YEAR 2018
***
VISI KUCĒNI IR DEVUŠIES UZ JAUNAJĀM MĀJĀM - VEIKSMI!
ALL PUPPIES WENT TO THEIR NEW HOMES - GOOD LUCK!
"A" metiena KUCĒNI - melni un šokolādes  / black and chocolate 
 dzimuši/born: 17.06.2017
5 melni suņi, 2 melnas kuces un 1 šokolādes kuce
5 black males, 2 black females and 1 chocolate female
Kucēni 1mēneša vecumā / Puppies at 1 month age
Kucēni 4 nedēļās / Puppies at 4 weeks
Black boy "green" / melns puika "zaļš" (LV): Gilbron Pride Astronaut Astro
Black boy "grey" / melns puika "pelēkais" (LV): Gilbron Pride Akimbo
Chocolate girl / Šokolādes meitene (LV/HU): Gilbron Pride Amber Luna Sky
Black girl "white" / melnā meitene "balta" (LV): Gilbron Pride Aria Ronda
Black girl "red" / melnā meitene "sarkana" (LV): Gilbron Pride Aura Anaka
Black boy "blue" / melnais puika "zils" (LV): Gilbron Pride Albion Juhart
Black boy "lilac" / melns puika "lillā" (LV): Gilbron Pride Argonaut
Black boy "beige" / melns puika "bēšs" (LV): Gilbron Pride Atlantic Wind
Kucēni 3 nedēļās / Puppies at 3 weeks age
Par kucēniem
Kucēni būs klīniski veseli attiecībā uz tādām iedzimtām slimībām kā miopātija (CNM), slodzes izraisītais kollaps (EIC), progresīvā tīklenes atrofija (PRA), hiperkeratinoze (HNPK).
Izcelsmes ziņā ciltsrakti ir pārsvarā ar angļu izcelsmi, kas nedaudz papildināta ar skandināvu "asinīm". Tie ir labradori no slavenām audzētavām Lilebritānijā "Stormley" , "Ballyhenry", "Thurbajen's".

Puppies:
The litter has got in the pedigree mostly Brittish bloodlines. Puppies will not be affected by CNM, PRA, HNPK, EIC.
In the Pedigree you will find Brittish bloodlines ("Stormley", "Thurbajen's" etc.) with addition of Sweedish labradors
We hope that some of the puppies will follow in succesfull steps of their great parents.
Par vecākiem / about parents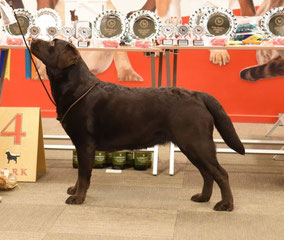 Chilli 4 years. Picture by Linda Lāma
Kucēnu māte / dam of the litter:
Gilbron Pride Smart Chilli Pepper, HDB/B, ED0/0, EIC, CNM, HNPK, PRA - clear (Laboklin), Medību diploms, Field test for retrievers. More about in her page / vairāk par Chilli skatieties viņas sadaļā
Mūsu titulētā Chilli ir pirmais Latvija dzimušais un dzīvojošais labradors - divkārtējais starptautiskais čempions - C.I.B. & C.I.E. Viņa ir arī piedalījusies praktiskās medībās uz ūdens putniem un fazāniem.
Chilli is the first LV bred and LV living labrador - holder of "double INT CH": C.I.B. & C.I.E.
Chilli ir vienīgā LV labrador meitene ar šādiem panākumiem Europas Uzvarētāja izstadēs / Chilli is only one LV labrador girl with such wins at EuroW shows
2nd excellent R.CAC in working class at EURO WINNER 2014 (Czechia)
2.teicami darba klasē un R.CAC EIROPAS UZVARĒTĀJS IZSTĀDĒ 2014 
1st excellent - working class winner at EURO WINNER 2015 (Oslo, Norway)
1.teicami Darba klases UZVARĒTĀJA  EIROPAS UZVARĒTĀJA IZSTĀDĒ 2015 (Oslo, Norvēģija) 
***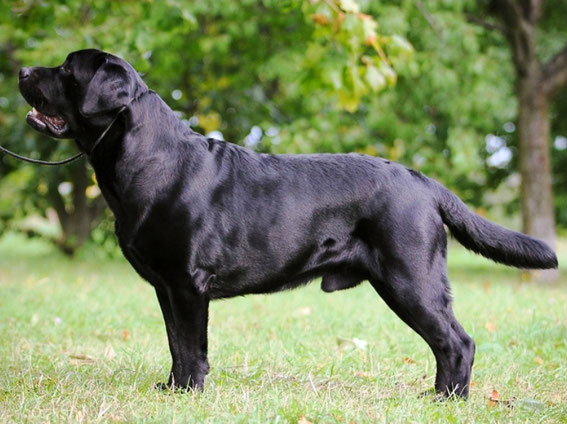 Kucēnu tēvs / Sire of the litter:
Halloran Mr Bombastic (Lielbritānija / Great Britain), HDA/A, ED0/0. C.I.E, LV, LT, EE, BALT, PL, RU, RKF, BY CH
Melns suns, ievests no Lielbritanijas. Spēcīgi veidots ar lielisku labradora temperamentu. Slavena Britu suņa Saranden Saboteur dēls. Viņa, ka arī Chilli ciltsraksti ir samērā liels retums Eiropā.
A black, strong made Brittish dog with wonderful temperament, gentle with puppies and friendly with people and dogs. Son of famous Saranden Saboteur
Kucēnu ciltsraksti / Pedigree of the litter
 

 Halloran Mr Bomabstic (Great Britain)

black, HDA/A, ED0/0

C.I.E., LV, LT, EE, BALTIC, PL, BY, RU, RKF CH, 




 

 

Saranden Sabouter 

(Great Britain) yellow, GBR CH 



 

Rocheby Old Smokey

(Great Britain)

yellow,

 

Rocheby navy Blue (Great Britain), black

SH CH, Rocheby Polkadot (Great Britain), yellow

Saranden Salishia 

(Great Britain), black

CH, JW, Cornlands Wellington

(Great Britain) yellow

Sweet Marjaram Of Saranden

(Great Britain), balck

Taramoss Be Tempting Of Flaxival

(Great Britain) black

 

 




 

Eromdop Danny Boy 

(Great Britain) 

black

 

Linchris Toffee Rolo At Eromdop (Great Britain) black

Eromdop Whispers Of Love (Great Britain) black



Braithwell B'Witched (Great Britain) chocolate


 

Mallorn's Mr Snowbusiness At Boothgate (FI) 

chocolate

Glosmere Miss Marple

 (Great Britain) 

chocolate




 

 

Gilbron Pride Smart Chilli Pepper

 chocolate

HDB/B, ED0/0, EIC&CNM&PRA&HNPK-clear

C.I.B., C.I.E., LV, EE, LT, BALTIC JCH; LV, EE, LT, BALTIC CH; 

Working test passed - international certificate 

10xCAC, 2xCACIB, 7xR.CACIB, 8xR.CAC, BOB, VDH Europajugensieger 2005,

Thurbajen's Just Jesting (Great Britain)

chocolate, HDA/A, ED0/0, EIC-N/N, PRA-clear

Kroppsmarkens Hubble Bubble Over Thurbajen (UK)

chocolate, Hip score 5-3

 Tojotte's Brown Bubble No Trouble

(Sweden) 

NO, FI CH

 

Thurbajen's New Years Eve 

(Great Britain)

Thurbajen's Latest Trick (Great Britain)

black, HDA/A, ED0/0, EIC-N/N, PRA-clear

 

 

Thurbajen's Winter Joker 

(Great Britain)

 

Thurbajen's Knot Likely 

(Great Britain)

 C.I.E., 

LV&LT&EST&BALT JCH, LV&LT&EST&BALT&BLR CH, BALT JW'07, LVW'08, LVW'09, LVW'11, BALTIC VCH, Ogre VW'15'16'17, LV CL.VW'17; 5xCACIB, R.CACIB,

Gilbron Pride Nixie Sparkling Smile

Chocolate, HDA/A, ED0/0, PL0/0

Ballyhenry say No Say Yes

(Great Britain) chocolate, HDA/A, ED0/0

C.I.B., LV CH, BALT W'04

Working test passed - international certificate 

 Stormley Craftsman At Ludzka

(Great Britain) chocolate

Ballyhenry Make Believe

(Great Britain) 

 

 

Stormley Anaka (Great Britain), chocolate, HDA/A, ED0/0, PL0/0

C.I.B., BALT&BLR JCH, BALT&BLR CH, EEJW'04, LVW'05, LTCLW'06, Forest duck-I, Swamp birds-I, Blood track-I (I-the highets degree diplomas)

 

Stormley Karlos

(Great Britain) chocolate

Stormley Haley 

(Great Britain)

chocolate