MUMS IR KUCĒNI, DZIMUŠI 25.04.2019.G.
 ŠOKOLĀDES PUIKA UN  DIVAS ŠOKOLĀDES MEITENES
WE HAVE PUPPIES BORN 25 APRIL 2019!!!
ONE CHOCOLATE BOY AND  TWO CHOCOLATE GIRLS
***
One girl is available
Par kucēniem
Kucēni būs klīniski veseli un ģenētiski brīvi attiecībā uz tādām iedzimtām slimībām kā miopātija (CNM), slodzes izraisītais kollaps (EIC), progresīvā tīklenes atrofija (PRA), hiperkeratinoze (HNPK).
Izcelsmes ziņā ciltsrakti ir pārsvarā ar angļu izcelsmi, kas nedaudz papildināta ar skandināvu un ASV "asinīm". Tie ir labradori no slavenām audzētavām Lilebritānijā "Stormley" , "Ballyhenry", "Thurbajen's".

Puppies:
The litter has got in the pedigree mostly Brittish bloodlines. Puppies will not be affected and will be clear for CNM, PRA, HNPK, EIC.
In the Pedigree you will find Brittish bloodlines ("Stormley", "Thurbajen's" etc.) with addition of Sweedish and USA labradors
We hope that some of the puppies will follow in successful steps of their great parents.
Kucēni 2,5 nedēļās / Puppies at 2,5 weeks
Par vecākiem / about parents
Mamma / dam: C.I.B., C.I.E, LV&LT&EE&BALT JCH, LV&LT&EE&BALT & PL CH, Ogre W'18, Valmiera W'18, GILBRON PRIDE SMART CHILLI PEPPER, HD B/B, ED0/0
Sire/tēvs: LV, LT, EE, BALT JCH, LV CH, Reto JW'18, GILBRON PRIDE ZOOM IN MAIGRET, HD A/A, ED 0/0.
(more about PARENTS  you can read in THEIR pages under "DOGS / Suņi")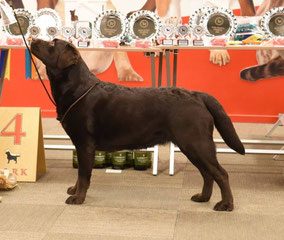 Gilbron pride Smart Chilli Pepper, 4 years. Picture by Linda Lāma
Kucēnu māte / dam of the litter:
Gilbron Pride Smart Chilli Pepper, HDB/B, ED0/0, EIC, CNM, HNPK, PRA - clear (Laboklin), Medību diploms, Field test for retrievers.
C.I.B., C.I.E, LV&LT&EE&BALT JCH, LV&LT&EE&BALT&PL CH, Ogre Winner'18, Valmiera Winner'18
Best female awards at retriever speciality shows.
More about in her page / vairāk par Chilli skatieties viņas sadaļā
Mūsu titulētā Chilli ir pirmais Latvija dzimušais un dzīvojošais labradors - divkārtējais starptautiskais čempions - C.I.B. & C.I.E un pirmā Latvijas labradormeitene - Polijas čempione. Viņa ir arī piedalījusies praktiskās medībās uz ūdens putniem un fazāniem.
Chilli is the first LV bred and LV living female labrador - holder of "double INT CH": C.I.B. & C.I.E and Polish Champion
Chilli ir vienīgā LV labrador meitene ar šādiem panākumiem Europas Uzvarētāja izstadēs / Chilli is only one LV labrador girl with such wins at EuroW shows
2nd excellent R.CAC in working class at EURO WINNER 2014 (Czechia)
2.teicami darba klasē un R.CAC EIROPAS UZVARĒTĀJS IZSTĀDĒ 2014 
1st excellent - working class winner at EURO WINNER 2015 (Oslo, Norway)
1.teicami Darba klases UZVARĒTĀJA  EIROPAS UZVARĒTĀJA IZSTĀDĒ 2015 (Oslo, Norvēģija) 
***
Kucēnu tēvs / Sire of the litter:
GILBRON PRIDE ZOOM IN MAIGRET, HDA/A, ED0/0. LV, LT, EE, BALT JCH, Reto JWinner'18, LV CH
Melns suns ar šokolādes krāsas gēnu. Izcilu sporta/darba suņu (Silver Sky Reima's, Reicel Tropic Chans) un lielisku izstāžu suņu pēcnācējs, kura ciltsrakstos ir izcili Lielbritānijas, kā ari daži ASV un Skandināvijas suņi.
A black young male of Brittish bloodlines with some addition of USA ans Skandinavian labradors. Descendant of great working/sport dogs (Obedience champions: Silver Sky Reima's, Reicel Tropic Chans)
PRA & EIC & CNM & HNPK & SD2 & OSD & DM - clear (Laboklin tests)
Ģenētiskie testi (Laboklin laboratorija, Vācijā):
Progresīvā tīklenes atrofija (PRA) - N/N tīrs
Tīklenes displāzija (OSD jeb RD) - N/N (tīrs)
Slodzes izraisītais kollaps (EIC) - N/N (tīrs)
Iedzimtā miopātija (CNM) - N/N (tīrs)
Deģeneratīvā miopātija (DM) - N/N (tīrs)
Iedzimtā deguna parakeratoze (HNPK) - N/N (tīrs)
Pundurisms jeb skeletalā displāzija 2 (SD2) - N/N (tīrs)
1st place, very promising in puppy class at GERMAN WINNER 2017 (Dortmund, Germany)
2nd place, very promising in puppy class at WORLD WINNER 2017 (Dortmund, Germany, 14 entries)
1.vieta kucēnu klasē VĀCIJAS UZVARĒTĀJA IZSTĀDĒ 2017 
2.vieta kucēnu klasē PASAULES UZVARĒTĀJA IZSTĀDĒ 2017 
Kucēnu ciltsraksti / litter pedigree
 

 Gilbron Pride Zoom In Maigret

black, HDA/A, ED0/0

PRA, EIC, CNM, HNPK, SD2, OSD, DM - clear

LV, LT, EE, BALTIC JCH, LV CH, RetoJW'18




 

 

Silver Sky Reima's

black, HD A/A, ED 0/0

LV, EE JCH, LV&EE Obedience CH, 2xCACIOB

 

Gilbron Pride Navigator Master Nose chocolate, HDB/B, ED0/0, PL0/0, PRA,CNM, Narcolepsy-clear, C.I.B., BALT JCH, BALT&RU CH, BALTJW'07, EEW'08, LVW'08'09, BALTW'10, BALT VCH, RIGA VW'15 Field test for retrievers-III, police working dog

 

Ballyhenry Say No Say Yes (Great Britain), chocolate, HDA/A, ED0/0

C.I.B., LV CH, BALTW'04

Stormley Anaka (Great Britain), chocolate, HDA/A, ED0/0, PL0/0

 

C.I.B., BALT&BLR JCH, BALT&BLR CH, EEJW'04, LVW'05, LTCLW'06, Forest duck-I, Swamp birds-I, Blood track-I (I-the highets degree diplomas)

Reicel Tropic Chans, black, HDA/A, ED0/0
Field test for retrievers, BH, OBD-3, OBD LV&EE CH, IRO RH FL E

Eshli Chans Fantazy Good Luck (RUS) yellow

HDA/A, ED0/0

LV CAC

Tropical Night Di Fur, black,

HDA/A, ED1/2

Forest Duck, used for hunting

Gilbron Pride Romantic Rocket

chocolate, HD A/A, ED 0/0, EIC, CNM, PRA, HNPK-clear

LV, EE, JCH, 

LV, LT, EE, BALTIC CH

 




 

Lab Treasure's He's A Hunk 

(Denmark) 

chocolate, HDA/A, ED0/0

DK, SE CH

 

Bonaventure Lubberline Viscount (USA), HD A/A

O'Sofinas Quite As Nice (SWE) black



Stormley Anaka (Great Britain), chocolate, HDA/A, ED0/0, PL0/0

 

C.I.B., BALT&BLR JCH, BALT&BLR CH, EEJW'04, LVW'05, LTCLW'06, Forest duck-I, Swamp birds-I, Blood track-I (I-the highets degree diplomas)

 

Stormley Karlos

(Great Britain) chocolate

Stormley Haley 

(Great Britain)

chocolate

late


 

 

Gilbron Pride Smart Chilli Pepper

 chocolate

HDB/B, ED0/0, EIC, CNM, PRA, HNPK-clear

C.I.B., C.I.E., LV, EE, LT, BALTIC JCH; LV, EE, LT, BALTIC, PL CH; 

Working test passed - international certificate 

10xCAC, 2xCACIB, 7xR.CACIB, 8xR.CAC, BOB, VDH Europajugensieger 2005,

Thurbajen's Just Jesting (Great Britain)

chocolate, HDA/A, ED0/0, EIC-N/N, PRA-clear

Kroppsmarkens Hubble Bubble Over Thurbajen (UK)

chocolate, Hip score 5-3

 Tojotte's Brown Bubble No Trouble

(Sweden) 

NO, FI CH

 

Thurbajen's New Years Eve 

(Great Britain)

Thurbajen's Latest Trick (Great Britain)

black, HDA/A, ED0/0, EIC-N/N, PRA-clear

 

 

Thurbajen's Winter Joker 

(Great Britain)

 

Thurbajen's Knot Likely 

(Great Britain)

 C.I.E., 

LV&LT&EST&BALT JCH, LV&LT&EST&BALT&BLR CH, BALT JW'07, LVW'08, LVW'09, LVW'11, BALTIC VCH, Ogre VW'15'16'17, LV CL.VW'17; 5xCACIB, R.CACIB,

Gilbron Pride Nixie Sparkling Smile

Chocolate, HDA/A, ED0/0, PL0/0

Ballyhenry say No Say Yes

(Great Britain) chocolate, HDA/A, ED0/0

C.I.B., LV CH, BALT W'04

Working test passed - international certificate 

 Stormley Craftsman At Ludzka

(Great Britain) chocolate

Ballyhenry Make Believe

(Great Britain) 

 

 

Stormley Anaka (Great Britain), chocolate, HDA/A, ED0/0, PL0/0

C.I.B., BALT&BLR JCH, BALT&BLR CH, EEJW'04, LVW'05, LTCLW'06, Forest duck-I, Swamp birds-I, Blood track-I (I-the highets degree diplomas)

 

Stormley Karlos

(Great Britain) chocolate

Stormley Haley 

(Great Britain)

chocolate