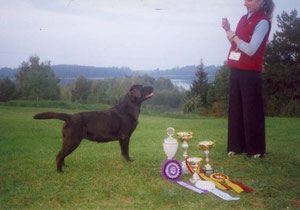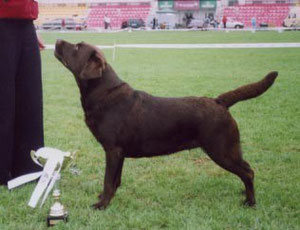 Stormley Anaka (Anaka) ir mūsu ilgi lolotais sapnis par Lielbritānijas šokolādes meiteni, kas pēc ilgām pārrunām un gaidīšanas īstenojās 2003.gadā. Anaka attaisnoja mūsu cerības, kļūstot gan par veiksmīgu izstāžu suni, gan iegūstot augstāko pakāpju medību diplomus, gan arī kļūdama par skaistu titulētu pēcnācēju māmiņu. Anaka ir arī pirmā Latvijā dzīvojoša labradormeitene, kas ieguvusi augsto CIB titulu (starptautiskā čempione).
Anakas pēcnēcēju vidū ir vairākas izstāžu zvaigznes, gan Latvijā, gan ārzemēs.
Esam ļoti pateicīgi Anakas audzētājai M. Booth kundzei (Lielbritānija, Stormley) par šo lielisko suņu meiteni.
Many thanks to miss Marjorie Booth (Stormley, UK) for letting have this beautiful girl!
PALDIES, ANAKA, PAR VISIEM ŠIEM GADIEM. TU TIEŠĀM BIJI UN BŪSI MŪSU KARALIENE.
THANK YOU ANAKA FOR THESE YEARS AND YOUR KIDS. YOU ARE THE QUEEN FOREVER
18.08.2003 - 06.07.2016
HDB/B, ED0/0, PL0/0, EIC- clear
CHAMPION INTERNATIONAL DE BEAUTE (CIB)
LV&LT&EST&BLR&BALT JCH, LV&LT&EST&BLR&BALT CH, ESTJW'04, LVW'05, LT CLW'06, 4xCACIB, 3xR.CACIB
1st place in working class at EURO WINNER 2006, HELSINKI
Forest Duck-I, Swamp Birds-I, Blood scent-I
Meža pīle-I, Purva putni-I, Asins pēdas-I
Sire)Chocolate

Hip score 5-5

Chocolate

Stormley Mastercraft With Harrop

Hip score 3-6

Chocolate

Stormley Craftsman At Ludzka

1 C.C., 2 R.C.C.

Hip score 3-5

Chocolate

Stormley Cassandra

Black

Stormley Marty Of Harrop

Yellow

Harrop Harvey Moon

Black

Hip Score 5-7

(Dam)Chocolate

Stormley Haley

Hip score 6-4

Chocolate

Stormley Craftsman At Ludzka
1 C.C., 2 R.C.C.

Hip score 3-5

Chocolate

Boothgates Headliner

Hip score 5-5

Chocolate

Brodiebrack Brown Encore At Stormley

Hip score 4-7

Chocolate

Stormley Cassandra

Black

Harrop Black Jack

Hip score 4-3

Chocolate

Stormley Kitty Kat